Arrival
From Helsinki it takes by plane 45 minutes, by train or by bus about 4–5 hours to reach Kuopio.
Flights: Finnair
Train: VR
Buses: Matkahuolto

Flights
Connections by air to Kuopio are excellent, as there are 9–10 daily flights from Helsinki to Kuopio. Kuopio Airport also operates charter flights. The airport is located 20 km from the city centre.
From the Kuopio airport you can also take a local bus or a taxi to the city centre. The bus number 40 operates between the airport (lentoasema) and the city center on Mon – Fri (from approx. 06:00 to 19:00). This bus arrives at Tulliportinkatu 33 (bus stop: "Keskusta 1") and it departs to airport at Maljalahdenkatu 31 (bus stop "Keskusta 9").
Taxis
Menevä Taxi: + 358 (0)800 02120 or via Menevä app
Kuopion Taksi1: + 358 200 111 01 or via Taksi1 app
VieVie: +358 2000 3000 or via TaksinAppi app
You can pre-order a taxi free of charge. The taxi in Kuopio costs approx. 1,65 € / km + basic fee 6-9 €.
Kuopio doesn't have metros, local trains, or Uber so you need to use a bus or regular taxi. When ordering through taxi apps you may get a price estimate
Weather
Hotels
Red dots = hotels (all within 15 min by bus to campus):
3.Original Sokos Hotel Puijonsarvi
Purple dot = bus stop where most busses leave to Microkatu
Hotel Savonia (20 min walk from campus, no fluent bus connection to campus)
Apartments / hostels
Forenom Aparthotel, Niiralankatu 25 (easy access to Savonia campus by bus or foot)
Hostel Matkustajakoti, Vuorikatu 35 (15 min by bus from campus)
Local buses
Kuopio local bus route planner. You can find the schedules also in Google Maps.
You can pay by using contactless payment (Visa, Visa Electron, Mastercard and Eurocard), Google Pay, Apple Pay, cash, or the Vilkku app. The ride in the city area costs 2,70€ when paid with contactless payment or Vilkku app, and 3,80€ when paid with cash.
We recommend that you walk here, at least a part of the time. The views are pretty and this way you can enjoy them better. Also the distance between places aren't that long. For example the distance between the city centre and Microkatu campus is about 3km.
Local buses from city center (bus stops "Keskusta 1" and "Keskusta 2") to Microkatu campus (bus stops "Savilahti E" or "Microkatu")
City center bus stops at Tulliportinkatu
By utilizing the local bus route planner you can find the buses between the city center and Savonia main campus (Microkatu 1). Many buses depart from Tulliportinkatu 33. The bus ride from the city center to Microkatu campus takes some 4-7 min. The buses will leave you either at Savilahti E or Microkatu bus stop:
Buses 4, 7, 16, 21, 23, 31 stop at Savilahti E (Savilahdentie 8, a road just next to the Microkatu campus).
Buses 35 and 40 stop at Microkatu (next to the Savonia main entrance)
Please note that there are no info panels in all buses indicating the bus stops.
Buses from Microkatu campus (Savilahti P or Microkatu) to city center (Keskusta 3, 4, 6, 9)
Buses 4, 7, 16, 21, 23 and 31 to city center depart along the Savilahdentie (bus stop named Savilahti P) to city center.
Buses 35 and 40 depart close to the Microkatu campus main entrance (bus stop named Microkatu) heading to city center.
At the city center you can exit e.g. at the main market place (bus stops Keskusta 3, 4, 6, 9)
Savilahti E bus stop near Microkatu campus
Local bus from city center to the airport
The bus 40 operates between the city center and airport (lentoasema). The bus departs at the bus stop "Keskusta 9" at Maljalahdenkatu 31 (Google maps).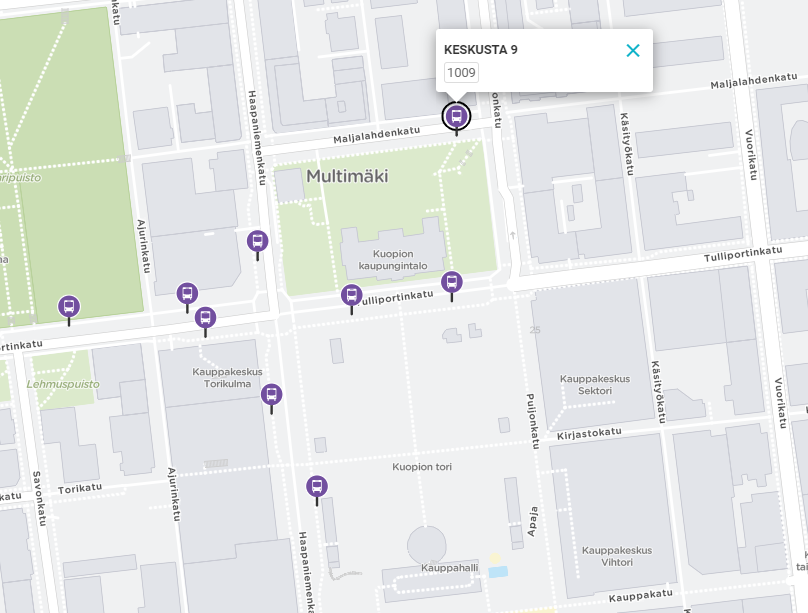 Addresses
Savonia Kuopio campus: Microkatu 1, Kuopio
Savonia Iisalmi campus: Haukisaarentie 2, Iisalmi
Wifi
On campus: Savonia guest
Smoking
Savonia is a non-smoking campus
Shopping
Taitoshop, address: Haapaniemenkatu 28
Finnish crafts
Vaahteranmäen Mumma ja Pappa
address: Shopping center Apaja, under the market place (under the street level)
Handmade crafts of local wood
Moico crafts & design, address: Haapaniemenkatu 20
Ceramics, textile crafts, prints, jewellery
Sokos, address: Haapaniemenkatu 22-24
Department store
Carlsson, address: Kauppakatu 36
Department store